Robert Pattinson reveals new hair style
What do we think? Is it hot, or shockingly NOT?
Hands down, Robert Pattinson is one of the hottest young chaps on planet Celeb right now. A lot of his aesthetic appeal stems from his somewhat scruffy appearance... R-Patz is never really a clean-cut, clean-shaven, suited and booted type of guy, and we like that.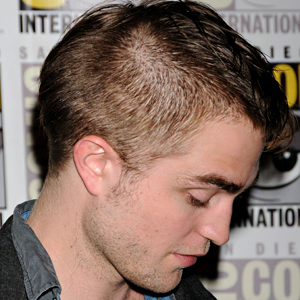 His big messy hair and rough stubble? Possibly the best thing about him, as well as his lopsided smile. But now it appears it's not just his smile that's a bit wonky - look at what he's done to his hair!
The actor has shaved off one side of his famous hair, leaving one side much longer (and floppier) than the other. Interesting.
We're not really sure how we feel about it over at MSN Celebrity HQ. It's very Alice Dellal if you ask us. However, it is for a movie role so we can let him off. The movie in question is Cosmopolis, a thriller in which Rob plays a guy who runs out of the hair salon halfway through his haircut! Makes sense...
The 25-year-old Brit showed off his new 'do at Comic-Con in San Diego yesterday with Twilight co-stars Kristen Stewart (also his girlfriend - lucky lady) and Taylor Lautner.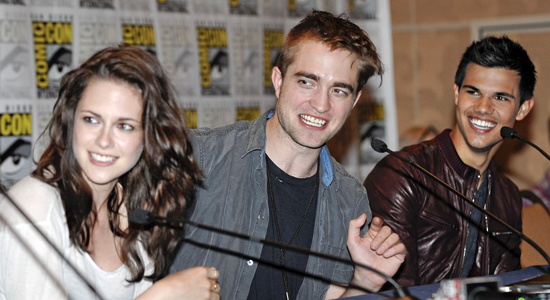 The three movie stars were at the event to promote the next Twlight movie, Breaking Dawn.
See more pics of the Twilight gang at Comic-Con in our gallery!
So, whether this new 'do is a fail or not is really very subjective but we'd love to know what you think of it. Leave us a comment below!
For old time's sake, we've shared our favourite and least favourite ever R-Patz hair styles ever.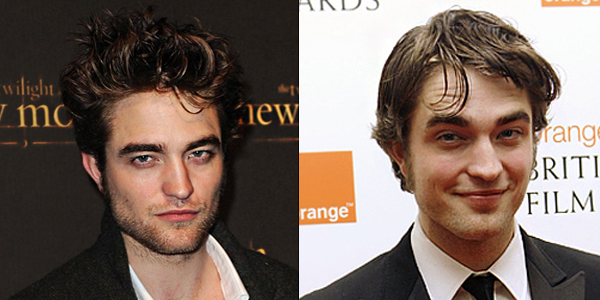 On the left, we have the messy, almost bouffant-like Pattinson 'do which we love very much. The sloppy, greasy mop on the right, however, was not his finest hour! Do you agree?
Are you sure you want to delete this comment?
What do you most want to see happen in the Celeb world in 2014?
Thanks for being one of the first people to vote. Results will be available soon. Check for results
Jennifer Aniston to wed

1,610 votes

Kim Kardashian to have another baby

342 votes

Justin Bieber to retire from music

3,206 votes

Britney Spears to duet with Adele

124 votes

Cheryl Cole to get married

447 votes

Beyonce to join UK X Factor panel

1,022 votes
Total Responses: 6,751
Not scientifically valid. Results are updated every minute.